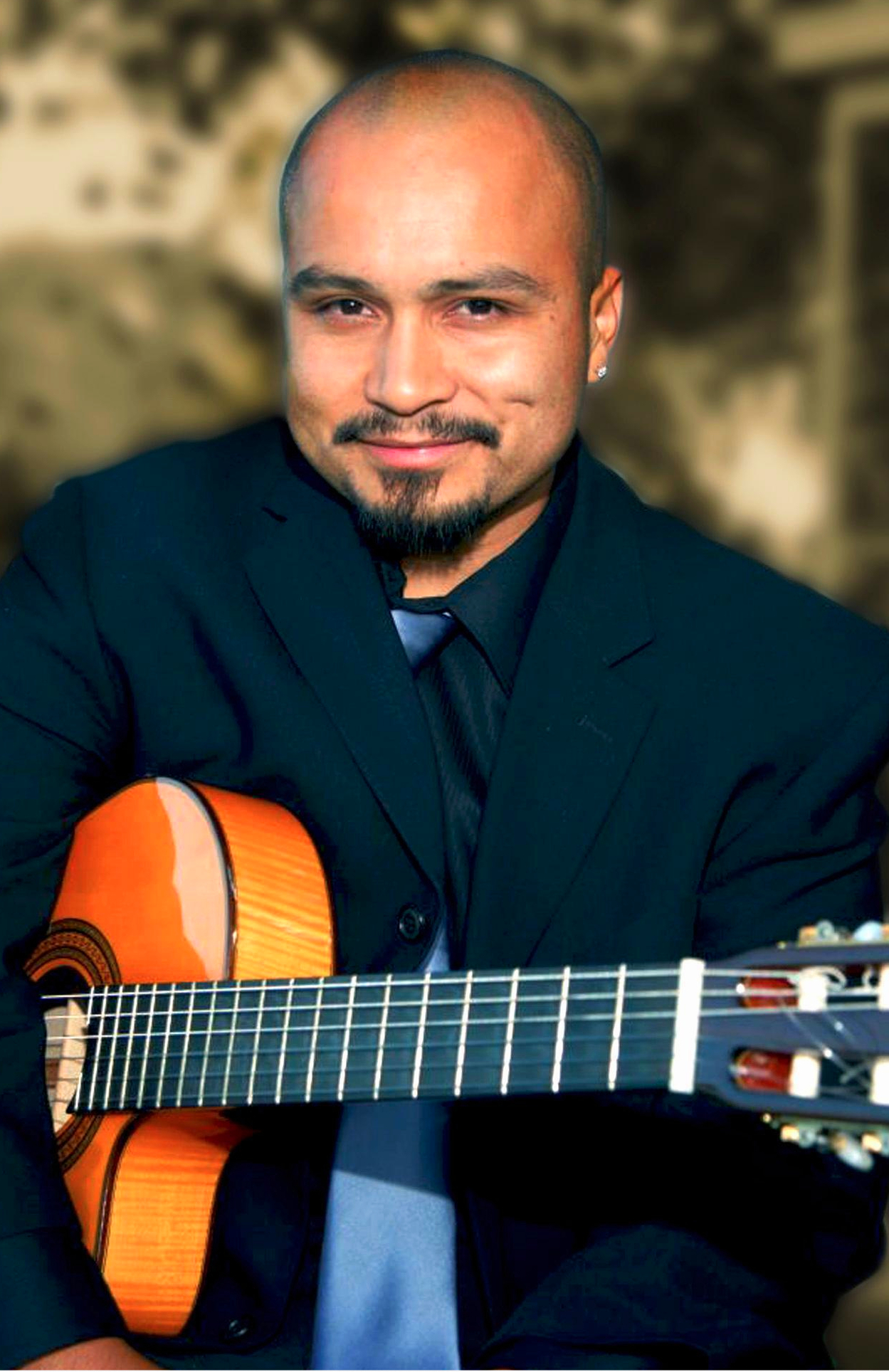 Looking for a Classical Guitarist in the Los Angeles, CA area? Rico Espinoza provides romance to any wedding ceremony, corporate event, memorial service, or special occasion. wedding guitarist wedding guitar Guitar music for your wedding ceremony cocktail hour. Serving Orange County, Los Angeles and San Diego counties. Los Angeles and Southern California classical, Latin and Spanish guitarist Rico Espinoza performs for weddings, corporate events, concerts. Spanish Guitar by Rico Espinoza Wedding Ceremony Music in California - Los Angeles County and surrounding areas.
Introduction
Rico Espinoza is a Los Angeles Spanish Wedding Guitarist and Wedding Musician/DJ. He provides Live Spanish guitar music for wedding ceremonies and all other occasions. He provides Wedding entertainment services such as Live Spanish guitar music for wedding ceremonies, cocktail hours and receptions. Look no further when hiring a professional wedding guitarist for your Wedding Ceremony in California - Los Angeles County and surrounding areas. He has extensive experience as a professional wedding guitarist Spanish guitarist and has provided live acoustic guitar music for weddings, ceremonies and private events for over 15 years. Rico Espinoza/Rico Entertainment is your "one stop"solution when looking to book a professional wedding guitarist for your wedding ceremony music, cocktail music, dinner music. We provide "the elegant" wedding guitar music services and professional DJ and MC services that you need for your wedding!
Los Angeles based Spanish Classical guitarist Rico Espinoza provides wedding entertainment throughout California. Rico Entertainment provides Live Spanish guitar music for weddings, corporate events, private events, and all occasions. Rico Entertainment provides solo Spanish guitar musical services which is ideal for wedding ceremonies. He provides a duo act with a percussionist, which is perfect for a wedding cocktail hour or wedding reception, and trio service made up of Spanish guitar, Latin percussion and bass. The most popular wedding entertainment package is the combo of: Wedding guitarist plus Professional DJ Services. When looking to hire a professional wedding entertainment and wedding guitarist, Rico Entertainment is your "one stop" for your all of your Wedding Entertainment needs.
Rico Espinoza is a Los Angeles Spanish guitarist whose Spanish guitar music can be best described as a Latin flamenco chill-lounge sound. His music is a blend of instrumental Spanish flamenco guitar in the style of the Gipsy Kings and Latin Cuban guitar rhythms. Rico's musical inspirations are drawn from Spanish flamenco guitar masters like Paco de Lucia, Vicente Amigo, and great Latin Cuban and Puerto Rican orchestras. He has been providing Spanish acoustic guitar services for many years as a acoustic guitar soloist in the Los Angeles county, Orange county, Ventura county, and out of state. Apart from performing as a solo acoustic guitarist for weddings, Rico Espinoza performs as a solo guitarist with his accompanying percussionist, and with his trio ensemble made up of acoustic guitar, percussion, and bass.
Whether it is a joyous event such as a wedding ceremony, cocktail hour, reception, or a corporate function, Spanish Latin acoustic guitarist Rico Espinoza enhances it by setting the mood and creating a great ambiance with his signature Spanish Latin acoustic guitar.
Contact us for availability/Pricing at:
1 (818) 271 9309 ESPINOZARICO@YAHOO.COM
Radio Show "Interview"with Rico Espinoza
Press Play to Listen
Performances/Venues
The Ritz Carlton Hotels, Mandalay Bay Hotel & Casino, The Venetian Hotel & Casino, The Wynn Hotel & Casino, Long Beach Museum of Art, Bel-Air Bay Club, Calamigos Ranch, Saddle Rock Ranch, Santa Barbara Courthouse, Oviatt Penthouse, Cafe Sevilla, Doubletree Hotels, Luminarias Restaurant, Middle Ranch, Sheraton Suites, Westlake Village Inn, The Market Broiler, Los Angeles Arboretum and Gardens, Hotel Corque, Hotel "La Casa Del Camino", MEDEA Gallery, The North Orange County Bar Association, The National Multiple Sclerosis Association, Bridgepointe Education,Kern County Museum of Art, The Fred Segal Store, Japanese Friendship Gardens, The Belamar Hotel, HBO Latino, The Mountain Mermaid, Cicada, Planet Hollywood Las Vegas, Hotel Seven4One, Casa Romantica, WWWCOT/DLR Group, South Coast Winery, Falkner Winery, The Sportmen's Lodge, Caltech Pasadena, Mountain Gate Country Club, The Proud Bird, La Venta Inn... and many more


Photos
"Click on thumbnails"
Approach
Our goal and our passion is to work hard, entertain our clients, and provide exceptional services and professional entertainment!
Tags: Wedding Guitarist, Wedding Musician, Rico Espinoza provides Spanish guitar entertainment. We provide Wedding Band, Wedding Ceremony Music in California - Los Angeles County and surrounding areas.Rico Espinoza is a wedding guitarist providing live music for weddings, ceremony. Your solution when looking for Los Angeles wedding ceremony music, Los Angeles wedding musicians. Looking for a Classical Guitarist in the Los Angeles, CA area? Rico Espinoza provides romance to any wedding ceremony, corporate event, memorial service, or special occasion. wedding guitarist wedding guitar Guitar music for your wedding ceremony cocktail hour. Serving Orange County, Los Angeles and San Diego counties.Los Angeles and Southern California classical, Latin and Spanish guitarist Rico Espinoza performs for weddings, corporate events, concerts. Spanish Guitar by Rico Espinoza Wedding Ceremony Music in California - Los Angeles County and surrounding areas.Looking for a Flamenco Guitarist in the Los Angeles, CA area? Rico Espinoza will help you.Spanish guitar by Rico Espinoza/Wedding guitarist musician, Spanish guitar by Rico Espinoza, wedding ceremony music California, Wedding ceremony musicians, wedding ceremony musician in Los Angeles, Los Angeles wedding ceremony music, Los Angeles wedding musicians, wedding reception music, Wedding Music, Wedding Guitarist, Solo, Duo, Trio in Los Angeles, Orange County & Ventura County, Wedding Ceremony Music, Cocktail Hour & Receptions, Find Wedding Ceremony Musicians in Los Angeles, CA. Search for thousands of Wedding Ceremony Musicians in California, Wedding music services, Los Angeles wedding services, Los Angeles guitarist, Los Angeles wedding musician, Los Angeles classical guitarist, Los Angeles wedding entertainment, Ceremony guitarist, wedding soloist for hire, acoustic guitarist for weddings, solo guitarist for weddings, acoustic guitarist for weddings, Live Entertainment, wedding vendor, Professional wedding services, Wedding Entertainment, cocktail hour musician, Wedding duo, wedding ensemble, Processional music for weddings, Live guitarist for weddings, Spanish guitarist, Spanish acoustic guitarist, acoustic guitarist, acoustic guitarist flamenco, guitar flamenco, solo guitarist, gipsy kings, Latin music, Latin musician, Latin guitarist, Latin guitar, solo guitar, solo guitarist, classical guitar, classical guitarist, ceremony music, ceremony musician, wedding music, wedding musician, live entertainment, Los Angeles musician, DJ services, DJ mobile, DJ, Hire wedding music, Wedding entertainment, wedding musician, Los Angeles wedding, ceremony music, Los Angeles wedding musicians, wedding reception music, hire professional Classical Guitarists in the Los Angeles area, Los Angeles Wedding Bands, musicians, Jazzy and Romantic CLASSY LIVE MUSIC of Los Angeles and Orange County provides live music, musicians, event entertainment for weddings, Spanish Guitarist provides Wedding Ceremony Music in California, Wedding guitarist, Wedding band, wedding musician, wedding soloist, wedding acoustic guitarist, wedding music, wedding entertainment, wedding guitar, wedding cocktail hour music, wedding classical guitarist, Spanish guitarist for weddings, Los Angeles classical guitarist, Latin guitarist weddings, Los Angeles wedding entertainment, music for weddings, flamenco guitar for weddings, gipsy kings music for weddings, reception music, ceremony music, instrumental guitar for weddings, solo spanish guitarist weddings, musician for corporate events, classical musician for weddings, Ottmar Libert, Paco De Lucia, Vicente Amigo, Santana, Live spanish guitar music weddings, Los Angeles entertainment guitarist, wedding entertainment, DJ, Wedding dj, professional Wedding dj, Wedding dj services, Los Angeles wedding dj, Los Angeles DJ for hire, Sweet Sixteen DJ, Los Angeles Entertainment, romantic guitarist for weddings, classy wedding music, reception music weddings,